I have another amazing smoothie recipe I've been drinking a lot lately! Now that summer is here I am drinking a lot more smoothies, and getting more creative with my ingredients! This recipe is very light and refreshing; just looking at it reminds me of sunshine. 🙂
Turmeric is one of my favorite super ingredients to add to smoothies! I like to use the fresh root instead of powder, but you can use either or. WARNING: when handling fresh turmeric root wear gloves! It will stain everything yellow. I don't wear gloves but then end up living with yellow fingers and nails for a couple of days and I have a permanent turmeric stain on my cell phone case, lol! Here is why I LOVE turmeric root so much:
Blocks Cancer – Doctors at UCLA found that curcumin, the main component in turmeric, appeared to block an enzyme that promotes the growth of head and neck cancer.
Powerful Antioxidant – The University of Maryland's Medical Center also states that turmeric's powerful antioxidant properties fight cancer-causing free radicals, reducing or preventing some of the damage they can cause. Early studies have indicated that curcumin may help prevent or treat several types of cancer including prostate, skin and colon.
Potent Anti-Inflammatory – studies have shown turmeric to be one of the most potent anti-inflammatory on the planet and even trumps some medication.
Osteoarthritis pain relief – Turmeric may also be helpful with another type of arthritis. Some research has shown that taking turmeric extract can ease the pain of osteoarthritis. In one study,reports WebMD, turmeric worked about as well as ibuprofen for relieving osteoarthritis pain.
Indigestion and heartburn aid – Curcumin works with the gallbladder, stimulating it to make bile, which may help with digestion. In Germany, turmeric can be prescribed for digestive problems. Some research shows that turmeric may help upset stomach, bloating and gas. Turmeric may also help reduce the occurrence of irritable bowel syndrome (IBS) in people who are otherwise healthy.
Read more about the health benefits of turmeric root here.
I like to top this smoothie recipe off with shredded coconut and cinnamon, but be creative; fresh mango, banana and coconut whipped cream would be delightful!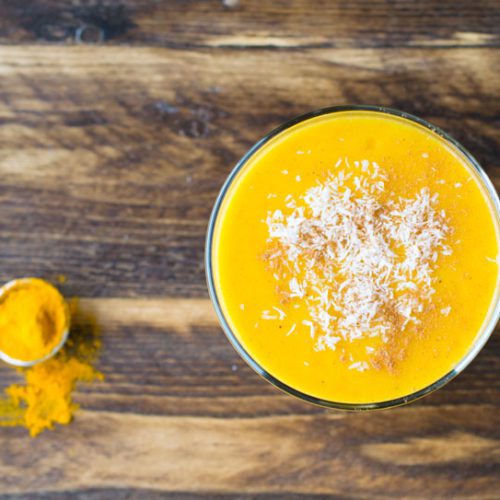 Tropical Turmeric Smoothie
Delicious vegan tropical smoothie with anti-inflammatory turmeric.
Ingredients
1

orange

peeled

1

fresh banana

1

cup

frozen mango

2

dates

pitted

1

thumb size turmeric

peeled

water for blending
Instructions
Blend all ingredients until smooth. Only add a little water as needed for blending.
Notes
Add vegan milk, or coconut butter for extra creaminess!