Okay I know what you are thinking… pumpkin recipe overload maybe? This is the last one I promise! (Maybe). I have wanted to make this recipe for so long but have just not had the time. There are so many flavors going on here; spice, tart and tangy and super creamy and different textures of soft and crunchy.
This recipe is a little more work than most of my recipes, but I assure it's so worth it!!! There are a lot of components but you will only require a blender and food processor. And… this recipe is perfect for thanksgiving and Christmas cocktail parties; you can make mini parfaits in cute little glasses and really blow your guests away!
I think by now, you all know it's no secret that I LOVE pumpkin and pumpkin spice, there is just something so warming and comforting about it. Although i don't like the cold of fall and winter I do like a lot of the food, so I guess you could say it makes up for it in a way!
They say your favorite season is the one you were born in. Well… I happen to be born on Christmas Day, so should I not LOVE winter? But sadly I do not! My favorite season is summer because I love to be outside in the sun and nature, walking my dog. Maybe it's because I live in one of the coldest places in Canada.
I'm not going to write much more because I'm currently visiting my sister and new nephew in BC and I want to spend as much time with them as I can.
Enjoy this recipe as much as I did, and be creative!!!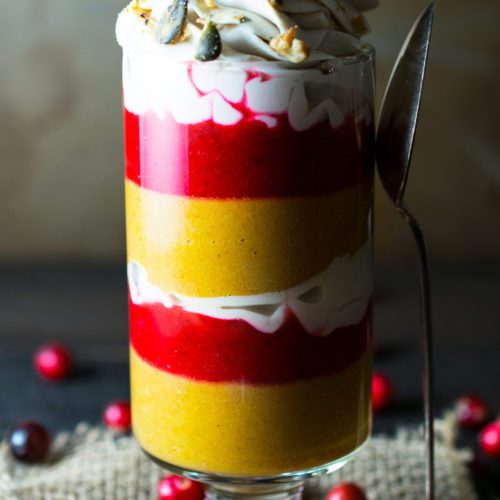 Pumpkin Pie Parfait with Cranberry-Orange Coulis and Coconut Whip
Raw, vegan, parfait that is great for dessert and holiday parties!
Ingredients
Instructions
Coconut Whipped Cream:
Place all ingredients except coconut oil in a high-speed blender and blend until smooth.

While the blender is running, add the coconut oil and blend for a few seconds.

Set in a shallow large container in the fridge for minimum 12 hours.
Pumpkin Puree:
Place pumpkin and almond milk in a high-speed blender and blend until smooth.

Add the remaining ingredients and blend until smooth.

Place in container and set aside while making the coulis.
Cranberry-Orange Coulis:
Place all ingredients in a high-speed blender and blend until smooth.
Candied Pumpkin Seeds and Pecans
Place all ingredients in a food processor and process until chunky and combined.
Notes
Assembly: Layer a parfait glass starting with the candied nuts and seeds, followed by pumpkin puree, cranberry coulis and coconut whip cream. Keep repeating until the glass is full. And remember, have fun!
Coconut Whipped Cream is adapted from the Sweetly Raw Cookbook by my beautiful friend Heather Pace! 
** to make your own pumpkin spice click here