This Protein Packed Buckwheat Cereal Breakfast is my favorite part of the day! Even though I wake up drinking a green smoothie every morning it usually does not fill me up to where I like, so I usually have another breakfast for my mid morning snack.  This nutritious buckwheat cereal is super easy to make and takes only minutes to prepare.  Just soak the buckwheat overnight, rinse, blend and add your choice of garnish!
Not only is this breakfast easy to create, it is also packed with nutrition to fuel you through your day. 

Reasons why you should be adding Buckwheat to your diet:
Best source of high-quality, easily digestible proteins

The high level of rutin is extracted from the leaves for medicine to treat high blood pressure

Non-allergenic – Buckwheat hulls are used as stuffing for those allergic to dust, feather and pollen
May help diabetes – with a low glycemic index of 54 it lowers blood sugar slower than rice or wheat products
Buckwheat is good at drawing out retaining water and excess fluid from swollen areas of the body
Contains no gluten
Has high quality protein, containing all nine essential amino acids, including lysine
Rich in iron
Very high in antioxidants
Filled with minerals and vitamins such as zinc, copper and niacin
Read more: http://www.care2.com/greenliving/10-health-benefits-of-buckwheat.html#ixzz3hKcEbaCy
This recipe is great because it makes enough for three days and you can be really creative with your garnishes!  I like to add some kind of berry, nuts, hemp seeds, chia seeds or crushed pecans.  You can also add maple syrup on top for a little extra sweetness.
Raw Buckwheat Groats are always easy to find, I like to buy the Bob Redmill's brand.  You can also usually find them in bulk section of any organic store.  It is really important to soak buckwheat groats overnight so they are almost sprouted but not quite.  After soaking rinse for about one  minute until the "slime" has been removed completely.
Enjoy this yummy breakfast!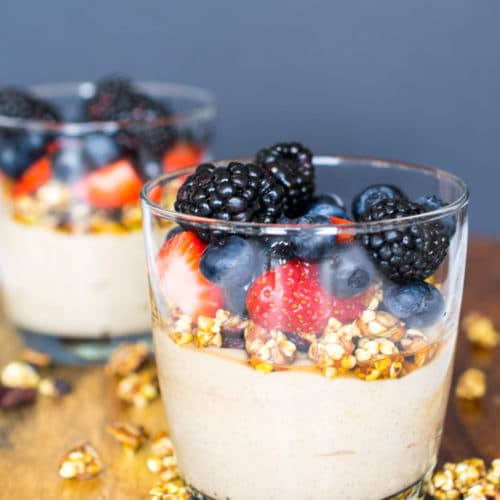 Protein Packed Buckwheat Cereal
This high protein and fiber raw buckwheat cereal will leave you satisfied and is so easy to make.
Instructions
Soak the Buckwheat groats overnight at room temperature.

In the morning, rinse the buckwheat really well in a fine mesh strainer.

Put the buckwheat in a high speed blender with all ingredients and blend until creamy and smooth.

Garnish with your choice of berries or nuts.
Notes
Add more or less Coconut Milk as required, texture should be thick and smooth. Instead of banana, you can add any kind of healthy sweetener to your liking. The Chia seeds are important because they thicken up the cereal. This will last three days in the fridge in a glass container.