It was Canadian Thanksgiving here last weekend and I couldn't wait to make an amazing vegan meal! I love pumpkin pie, so I wanted to make a raw, vegan pumpkin pie for the first time. I was nervous to work with raw pumpkin as I know when raw, the taste of pumpkin sometimes is overwhelming, but this recipe turned out perfect!
I had my mom over for thanksgiving dinner, she loves to try all my creations so I couldn't wait for her to try this! In her words "this is better than real pumpkin pie"! Thank goodness, she loved it! 🙂 The filling in this recipe is rich, creamy and smooth; you would never know it is raw. I thought pumpkin would be difficult to work with, but I it was actually quite easy; you will need a sharp knife to peel outside layer.
Pumpkins are actually quite healthy for you! Here are 4 surprising health benefits of pumpkins:
Rich in fiber, making you feel fuller longer aiding in weight loss.
Contains high amount of beta-carotene which is converted to Vitamin A in the body increasing sharper vision.
Pumpkin oil even helps fight various bacterial and fungal infections. Plus, pumpkin is packed with nearly 20 percent of the recommended amount of daily Vitamin C, which may help you recover from colds faster.
In scientific tests, pumpkin has been shown to reduce blood glucose levels, improve glucose tolerance and increase the amount of insulin the body produces.
Read more about the source here.
Even if Thanksgiving is not around the corner in your part of the world, this recipe is great for fall!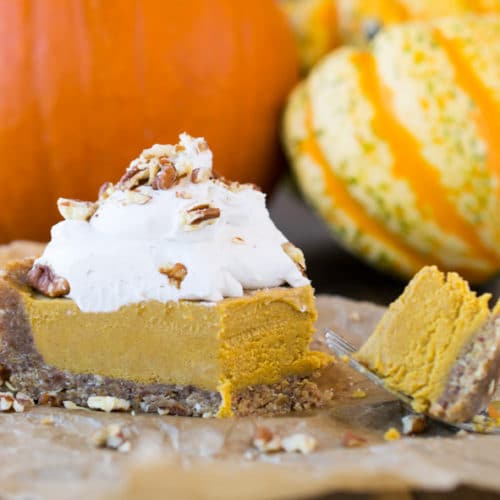 No-Bake Pumpkin Pie
Raw, Vegan pumpkin pie made with real pumpkin and topped with coconut whipped cream. Makes 1 x 4" pumpkin pie.
Ingredients
Filling
1

cup

pumpkin

5

dates

soaked

1/2

ripe banana

1/4

cup

almond milk

1

tablespoon

coconut butter

1 1/2

teaspoons

pumpkin pie spice

1/2

teaspoon

ground clove
Instructions
Crust
Process dates, almonds, oats, coconut oil, salt and cinnamon in the food processor with an S Blade and process until combined, forming a dough.

Add shredded coconut to the food processor at the last few seconds until combined.

Line the bottom of a 4" spring form pan with parchment paper or saran wrap.

Firmly press dough into the pan forming a deep dish crust covering the entire pan.

Place the spring form pan in the freezer to set while making the filling.
Filling
Peel pumpkin with a sharp knife, cut in four squares, remove innards and seeds with a spoon, and cut into cubes.

Place all ingredients into a blender and blend until smooth.

Remove crust from freezer and fill crust with pumpkin pie filling.

Serve right away for place back in freezer for 15 min. to set.
Notes
The pumpkin filling recipe makes enough for 2 servings so you may want to double the crust recipe. You can also add the extra filling to smoothies, overnight oats or chia pudding! Yum!