Have you ever had hemp seed yogurt?! This is a great way to add a plant-based yogurt to your diet without having to fuss with fermentation. I used to make this all the time when I first discovered raw food and totally forgot about it until I was coming up with recipes to film.
I love this recipe because it is so easy to make and non-intimidating for those starting to add more raw, plant-based food to their diet. Hemp seeds are perfect for creating a creamy texture and replacing dairy.
Did you know that hemp seeds are one of the most nutritious seeds on earth? They are a complete protein source, and much more:
Hemp seeds are 33% protein.

Hemp seed s are 35% essential fatty acid. (Omega 3, 6, 9 and GLA)

Super high in Omega 3's. 

Contains all 9 essential amino acids.

Rich in trace minerals.

High in dietary fiber.
…And people ask me where I get my protein!
You can use any granola to layer your parfait; I chose to use sprouted buckwheat granola (my favorite!), raspberries, blackberries and garnished with mint.
Blueberries, strawberries and bananas will also be great with this hemp seed yogurt!
Thanks for watching my video; remember to give me a thumbs up and subscribe to my channel! 🙂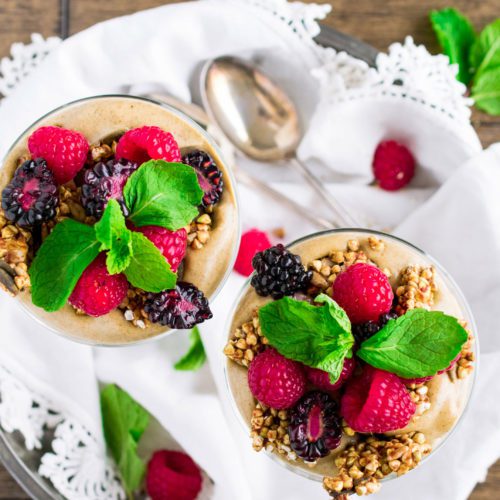 Hemp Seed Yogurt Parfaits
This hemp seed yogurt recipe is smooth, creamy and full of nutrition!
Instructions
Add all ingredients to a high-speed blender and blend until smooth. Add additional water in small amounts for blending or desired texture.
Notes
This recipe will keep in the fridge for 3 days, but best eaten fresh. 
Because of the coconut oil, the hemp seed yogurt will thicken up a lot more in the fridge. 
You can eliminate dates and use liquid sweetener instead.